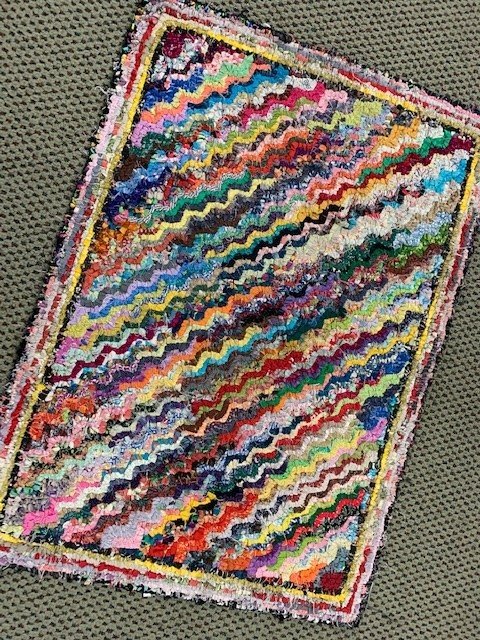 Got fabric scraps or some extra time? Why not create a Locker Hooking Rug using scrap strips (¾ to 1 inch wide) of fabric. Or if you are feeling industrious, cut strips from fabric you choose. You can make a rag-type rug or get creative with design and color. This course will provide you the basics for getting started – cutting and preparing the canvas, whipping the edges and getting started with the Locker Hook, along with tips of connecting fabric strips and finishing your rug. We will also discuss creating a design.
Supply list:
Locker Hooking Rug Canvas: 3.75 Mesh (The package is 44" x 60")
Locker Hook
100% cotton Locker Hooking Twine, cotton twine or good quality yarn.

Small pair of scissors for fabric. A pair of kitchen shears or utility scissors will be used to cut the canvas to the desired size.

Tapestry needle – size 16

I recommend Bias Tape for whipping, good yarn or fabric strips between 1/4 and 1/2 inch wide.

Lots of cotton fabric strips – ¾ to 1 inch wide in various colors or colors of your choice for a specific design.

I also recommend a lint roller

.
-Fabric- PLEASE HAVE IT PRE-CUT in 3/4"-1" inch strips….you will need approx. 450- 600 inches to start with. (see shop sample).
-All supplies are available at Quilting Adventures. We are happy to help you select the appropriate fabrics and supplies for your class and count on your support for this small, locally owned business in order to bring you high quality merchandise and excellent class instruction. As a student, you will receive a 10% discount on all supplies for the class in which you are enrolled.
_____________________________________________________________________________________
Class Policies:
If your class starts at the same time that we open, we will let you into the shop ten minutes before class time.
In consideration of other students and employees with allergies, please limit your use of scented personal products when attending one of our classes.
If your class calls for a book or pattern, each student needs their own copy of that book or pattern. Under federal copyright law, books and patterns may not be shared.
If your class requires a sewing machine, please be sure that you are familiar with its operation, it is in good working order, has been serviced recently, and bring your manual along to class just in case!
We do not allow children under the age of 18 in our classes without the consent of the teacher and the shop owner.
Only the person who is enrolled and paid for the class may be in the classroom during class time. Out of consideration for the teacher and the other students, please do not bring children, guests, or friends to class with you.
Cancellation policy: If the class minimum is not met within seven days prior to the class, it may be cancelled and you will be notified and will receive a full refund. Please keep this possibility in mind when you purchase supplies for your class. No refunds of class fees will be given if student cancels within the one week prior to class.
| | |
| --- | --- |
| Skill Level: | Beginner |
| Skill Details: | Beginner |
| Instructor: | Bill Brenzovich |