Once In a Super, Eclipsed, Full Blue Moon Sale
January is having a second full moon of the month on Jan. 31 (a blue moon). It's also a super moon and a total lunar eclipse!!!!! See what USA Today says about all of this. So we're having a super sale.
Sale from Jan. 31 to Feb. 4 (Superbowl Sunday)
Finish the Bolt - 25% off

Sports and Novelty Fabric - 15% off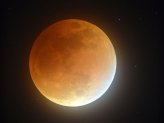 New classes are up on the Website!
We have beginning quilting, curves without curved seams, sit 'n sews, and still a little space in the Aunt Grace Block of the Month. Check them out below. More are on the way too.

Beginning Quilting
6 Sessions for each class
Starting Wednesday, Feb. 21
10:30am - 12:30pm or 5:45pm - 8pm
$125



Lion Abstractions by Violet Craft
2 Sessions
Sundays, Feb. 18 (plus 3 monthly sit and sews)
12:30pm - 4:30pm
$80




Curves without Curved Seams
Saturday, Mar. 3
10:30am - 5:30pm
$65





Beginning Quilting III Flying Geese
Saturday, Mar. 10
10:30am - 5:30pm
$60




Aunt Grace Basket of Scraps BOM Sit n Sew
Your choice of the first Friday morning or the first Sunday afternoon. Just give us a call (804.262.0005) because space is limited.




English Paper Piecing Sit n Sew
Second Sunday afternoon of the month.
Feb. 11, Mar. 11, Apr. 8, May 13 (maybe, it's Mother's Day)




Last chance to sign up for the CEO Club!!!
Don't forget to send us you list of 6 UFOs(unfinished objects) you want to finish this year. You must finish one a month, in any order you choose. Coupons for each month are an additional reward, when you show us your completed object. And, there is a party in August to share your work from all those months. Email us your list or stop in and fill out one of our slips.


Time is flying by and January has gone the way of a melting icicle - here and visible and then melted away. February promises to be typical for its weather. This does not make me happy. January was way too cold for me. It even cut into some of my sewing because my studio was too cold. Staff has been talking about how often they sew - daily, every few days, weekly. What about you, how often? Do you set a goal of sewing a certain amount each day, week, or month? Or do you decide what projects need to be started and finished and sew through them? I'm the latter, however life always interrupts the best laid plans. Wedding and baby blankets are always thrown in, shop samples, and that new fabric and pattern I just saw arrive always need to be added to my CEO list. Someone once said to me, "You'll never die because you have too much work to do!" I plan on keeping it that way. I hope you do too.
Keep sewing and enjoy it!

Happy quilting,
Phyllis and the QA staff


Quilting Adventures Hours:
6943 Lakeside Avenue Tu - Thurs 10 -8
Richmond VA 23228 Fri/Sat 10 - 6
804-262-0005 Sun 12 - 5
Website: http://www.quiltingadventures.com Closed Monday
Shop Blog: http://www.quiltingadventures.com/qablog
Facebook: http://www.facebook.com/QuiltingAdventuresVA