We will be closed July 2 - 4 for Independence Day! Enjoy the holiday and time with family.
Row by Row has stared!!!!! Come by an get your pattern, kit, licensse plates for this year, and some kits and patterns from past years. Sew Musical is going to be Sew Fun!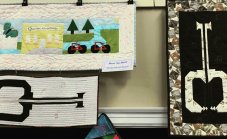 Up-coming Sales

June 26: National Log Cabin Day - Anything Log Cabin is 20% off
June 29: National Hug Day - Minky 20% off
Flash sales coming to you via email!


Up Coming Classes
(More are added all the time, so be sure to keep checking our calendar)

Technique Class - Mitering and cutting with a Lover's Knot
Saturday, June 23 10:30 am - 1:30 pm





Beginning Cross Stitch
June 27 5:30 - 8 pm



Beginning Quilting
July 11 - Aug 29 10:30 am - 1:30 pm



Picture Piecing
July 17, 24, 31 5 - 8 pm
or
July 28 & 29 all day store hours both days




Beginning Foundation Paper Piecing
July 21 10:30 am - 2 pm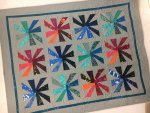 New Fabrics in the store

New Hoffman batiks just arrived. We also have some Banyan Batiks(including white on whites) and some Anthology Batiks new in the shop. QT Fabrics Ink & Arrow has sent Gypsy. Some lovely fall prints and panel has come from Northcott and Robert Kaufman.




Dreamscapes from In the Beginning fabrics is colorful and would be great for a One-Block Wonder. There is a fun sewing constellations from Moda. We have a reprint of Alison Glass' panel. AND Christmas fabric is starting to arrive. Riley Blake Christmas Delivery is the first.




Patterns from Market are starting to arrive. Elizabeth Hartman's Penguin Party and North Stars have arrived. Nests to hold your rulers and other tools are here too. New patterns from The Fat Quarter Gypsy and Poorhouse Designs are in and classes are being scheduled. Drop by and see the samples we are putting together.


Summer has arrived and the rain keeps on arriving too. Hope everyone's houses are alright. It's hard to think about starting fall and winter projects right now with the temperatures and weather, but now is the time to do just that. Fall, Halloween, and Christmas fabrics are starting to arrive. A few are already here, more will be here in July. School is finally(?) out. Hope you aren't already hearing, "I'm bored!" We're thinking of doing some kid's classes. What schedule works for you? Morning, afternoon, weekends? They will probably be 2 - 3 hrs with sewing and non-sewing projects. Email us at info@quiltingadventures.com with suggestions and preferences for times and projects.

Stay dry and cool everyone! Happy sewing,
Phyllis and the QA Staff