Skip Navigation
Website Accessibility
Upcoming Classes at QA

Lots of Classes Scheduled!!!!
Find the one that you've always wanted to take, improve your skills, or just come for the fun and company. Just click on the links for more information and to sign-up.



Last minute space in Stack, Shuffle, and Slide - Sept. 19 at 5:30 (tomorrow). If you are interested, call us at 804.262.0005 or click here.


Techniques Class - Curvy Log Cabin
Saturday, Sept. 22 - 10:30 am
Pop-up Wire Tote Bags
Saturday, Sept. 29 - 10:30am
Mini- Mosaic
Saturday, Oct. 6 - 10:30 am
One Block Wonder
3 Saturdays starting Oct. 13 - 10:30 am
Beginning Quilting

Two sessions
Wednesday mornings starting Oct. 17 - 10:30 am
or
Wednesday evenings starting Oct. 10 - 6 pm
Quilt As You Go Tree Skirt
2 Tuesdays starting Oct. 16 - 5 pm
Cynthia England Picture Piecing
Thursday, Oct. 18 5 pm (3 classes)
Technique Class - Cornerstones and Sashing
Saturday, Oct. 20
Beginning Foundation Paper Piecing
Saturday, Nov. 10 - 10:30 am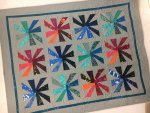 Pineapple Quilt
Sunday, Oct. 28, 12:30 pm
If you don't see a class you are interested in, give us a call. We have interest lists started and can see if we can schedule a class. Find some friends and we will schedule a class for at least three or more people. We love for people to learn the art of quilting and sewing and to share it with the next generation. Have a pre-teen or teen you would like to take a class with you? We can see about arranging a multiple generation class. A pillowcase class is a great way to learn how to use the machine. After that we can move on to quilts using pre-cuts, and then there are no limits! Just let us know your wishes.

Happy sewing everyone and let's hope this rain moves out soon. We all need some sunshine.
Phyllis and the QA team
Quilting Adventures Hours:
6943 Lakeside Avenue Tu - Thurs 10 -8
Richmond VA 23228 Fri/Sat 10 - 6
804-262-0005 Sun 12 - 5
Website: http://www.quiltingadventures.com Closed Monday
Shop Blog: http://www.quiltingadventures.com/qablog
Facebook: http://www.facebook.com/QuiltingAdventuresVA

Click to visit Quilting Adventures!