It's been hard to stay warm this week. Lots of layers, space heaters, and warm drinks. My insulated mugs keep my drinks warm all day. The one drawback of these wonderful mugs is that the outside isn't warm. No way to warm my hands.


Sunday was a lovely day. The snow was beautiful to look at, I didn't have to go anywhere, and I was able to stay warm. I literally sewed all day with friends via Zoom. Had assistance from all four cats and none from my husband.:) I have a heated mat under my sewing machine to top it all off. Nebula Month Two demo is all set for next Saturday! Kits are available for pick up now.


We have a few things in the shop to help you stay warm too. We have kits for small hand warmers. They fit in the palm of your hand and are filled with rice. Put them in the microwave and then put it inside your glove or mitten. We also have mug rug kits. These include all you need to make a rug, a pack of hot cocoa, and you can use the container for your drink.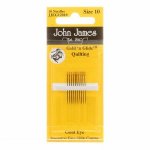 Hand quilting is another way to stay warm. Drape your quilt over you as you quilt. We have lots of needles for hand quilting. I use a bigger needle because my hands don't like true quilting needles. We have 40wt thread, 30wt waxed thread, 8wt perle cotton, and lots of embroidery floss to use.


Ever thought about the batting you put in your quilts? The layers in the quilts are supposed to trap air. The air stays warm and it warms you. The thicker or loftier the batting, the warmer it will be. Wool is good year round and is lovely to quilt with. The longarmers love to quilt on wool. Combining a cotton layer with a wool layer will make your quilting stand out and keep you extra warm. There are several thicknesses of batting and several materials used. You can get all cotton, a poly/cotton mix, poly, recycled bottles, and bamboo. All have a lovely hand and are easy to sew with(hand or machine).

Need to share with you the lovely fabric that arrived this week. The Tides from Free Spirit is stunning. The Ocean one is an ombre like you have never seen. Come see it in person, it's so much prettier than the camera can show.

Ocean Tide Sea Glass Pebbles Murmuration

The Super Bowl is coming up, so make sure you have your hand work projects ready.

Super Bowl sale this week – 15% off anything with any of the team colors. Red, Gold, Pewter, and Orange!


Happy and warm sewing all,
Phyllis and the QA Staff