Skip Navigation
Website Accessibility
How Do They Make Fabric?

How Do They Make Fabric?


Last week I talked about how we buy fabric. So this week let's talk about the fabric.
The fabric we use for clothing and quilting, is usually woven. Some fabrics have the yarn-dyed first and then are woven. Solids, shot cottons, Peppered Cottons are examples of this type of fabric.


The fabric that is already woven and nothing done to it is called Greigh goods. It comes in different thread counts, sizes of yarn used, and a different hand (how it feels and drapes). For example, Duck cloth greigh good or substraight is heavier than a quilting cotton. There are a million steps (well it just seems like it), from the initial weaving to getting the printed fabric we sell at the shop.
Let's start with the yarn before it is woven. Sizing is added to yarn before weaving for strength. Most of the fabric we have is woven on electric looms that work the same as hand looms. They just work a lot faster. The warp yarn runs the length and the weft runs across weaving through the warp. The weft forms the selvedge and edge of the fabric. Some places inspect their fabric at this point to look for weaving errors. As you have all seen, sometimes the weaving isn't even or a clump of yarn gets through.


The fabric then goes to the printing mills. Here the fabric is cleaned and bleached with special chemicals to get the sizing out, to clean the natural dirt out, and to get the fabric white for printing. They do not use bleach like we do. Hydrogen peroxide and other less harsh cleansers are used. The fabric is washed and dried many times during this process. The fabric is then "Stretched" with pins (marks/holes along selvedge edge) to make the width consistent along the assembly line. It is then washed again to make sure all chemicals are removed.


Fabric is now printed using screen printing processes or digital printing machines. Screen printing machines have flats or rolls. Colors are printed one at a time. The size of the machine (number of flats or rolls) determines the maximum number of colors that can be printed. Each color has it's own screen. After printing the dyes are set and the fabric is washed and dried again. The fabric is inspected during all of this for printing errors. It is put on rolls and shipped to the USA to be rolled on to bolts. This video by The Batik Man is a good learning video about printing fabric.


Digital printing uses newer technology to print onto fabric. The ink used is different than what is used for screen printed fabrics. The digital printer has printer heads similar to your computer digital printer. It has at least 8 different colors to mix for many more colors combinations than a screen printing press. Also, because the print heads are smaller, the printing is more precise than screen printing. The fabric is still inspected for errors. Setting the dye and cleaning the fabric happens still, just a little differently. This process doesn't use the steamy process of the screen printed fabrics. Videos about this process are hard to find because the process is still pretty new. This one is from my QT Fabrics rep. They are printing clothing fabric. Watch to the end to see how fast these machines can go. Here is the video to show you a little of the process.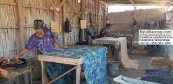 I haven't forgotten about Batiks. They start with the same greigh goods. The fabric (in 15 yard pieces) is then laid out on plastic sheets and hand dyed. The process uses base colors, chops (the instrument that puts the repeating pattern), and wax. It is washed many times, dyed many times, waxed, and washed again to get the wax off in the end. If you look at your batiks carefully, you will see spots of wax that remain. These will wash away. The Batik Man also has a great video showing how batiks are made.
Each of these methods give us beautiful fabric. Sometimes more is printed, sometimes not. Sometimes the colors may vary, just like with different dye lots with knitting yarn. More and more of the fabric we are getting is digitally printed. You can't always tell the difference. Batiks are always hand dyed and will have some variance from bolt to bolt.


I need to order fabric by the bolt – usually 15 yards a bolt. Shipping isn't free, so ordering one bolt isn't cost effective. Fabric companies are also starting to put a minimum on the number of bolts they will ship. Ordering a specific bolt plus two to four more just to meet the minimum may not be something I can do either. Remember, I'm budgeting fabric purchases 6 months out. I do try to save money for solids, basics, blenders, and hand dyes re-orders. I'm not complaining. I want you to understand that when I say, "I can't order the fabric anymore", there are many reasons behind that statement. "I don't want to do it for you," isn't one of them. 😊
There are so many fabrics available these days, we can't carry them all. The fabric shops in Richmond are all different. If you can't find what you want here, you may be able to find it in one of the other shops. We all know each other and used to talk on a more regular basis (Thanks COVID).

I hope these newsletters are giving you a peak into our industry. It's not as simple or limited as it used to be! I'm learning all the time about what is new, changed, and still the same.

Happy sewing everyone and don't forget to look at the lovely blooms,
Phyllis and the QA staff
Quilting Adventures Hours:
6943 Lakeside Avenue Tues thru Sat 10 - 4
Richmond VA 23228 Sun - Mon Closed
804-262-0005
Website: http://www.quiltingadventures.com
Shop Blog: http://www.quiltingadventures.com/qablog
Facebook: http://www.facebook.com/QuiltingAdventuresVA

Click to visit Quilting Adventures!