Skip Navigation
Website Accessibility
Thread



Today we're going to talk about thread. Today's threads are much better quality than when I started sewing in the dark ages. I prefer to sew with cotton thread. However, polyester and cotton/poly work as well. All are strong, flexible, give you a nice seam, colorfast (for the most part), and less linty than in the past. The better the quality of the materials, the less lint that gets into your machine. Also, remember the thickness of the thread determines how flat your seam will press. There are many types of thread made today. Different threads are made for different types of sewing.
There are a few things you look at when choosing thread.
1) Color fastness
2) Construction methods
3) Thread type
4) Processing
I'll start with color issues. Most threads are colorfast due to the process used to make the thread. Aurifil recommends cold water, no bleach, and dry and press on lower heat to start with. Sounds like good advise for any new quilt and any thread used. Here's what their email said:


Today, we're here to remove the mystery of color care and explain the difference
between Aurifil's three color categories: 23 Reactive Colors (marked with a * on the Aurifil
color chart), 211 Indanthren Colors, and 36 Multicolor (variegated threads, marked with
a small black square on the Aurifil color chart).
Our Reactive Colors are created using a reactive dye--
a type of deeply colored organic material
that attaches itself through a chemical reaction. This chemical
reaction forms a molecular bond between the dye and the fiber.
The dye then becomes a part of the fiber and is a lot less likely to
"bleed" like something that was dyed by simple absorption.

Reactive Color Care Instructions:
Launder without bleach

Machine wash in cold water - no more than 140˚F (60˚C)

Tumble dry cool

Iron on low heat - no more than 300˚F (150˚C)

Indanthren Colors are our 'work-horse' colors. They are seen as 'Indanthren' is a trade name for the first synthetic vat dyes, discovered in 1901 by a German chemist named Renohn. Vat dyes are insoluble in water, mainly used for cellulose or protein fibers (plant or natural fibers like cotton, flax, or wool), and have a final color that is developed in the oxidation process. Indanthren dyes can withstand light, bleach, and somewhat higher temperatures.

Indanthren Color Care Instructions:

Launder with bleach (as necessary) in cold water only

Machine wash in cold to warm water -- no more than 160˚F (70˚)

Tumble dry at low to no heat
Multicolor threads are also known as our variegated threads.
Multicolor Thread Care Instructions
Launder without bleach

Machine wash cold - no more than 85˚F (70˚)

Tumble dry at very low or no heat

Iron on low heat - no more than 230˚F (150˚C)
Wash in Cold
(Click for some good advise :))
This information can be easily found on the thread weight product pages on the Aurifil website.

Thread is constructed one of 6 ways – spun, corespun, textured, filament, monofilament, and bonded. Think of how you see spinners make yarn with carded wool. The same is done with cotton and poly on a much finer scale with machines. We typically use spun, corespun, and filament or monofilament for garment and quilt sewing. Spun and corespun can be cotton or poly. Corespun usually has a poly core with spun cotton or poly wrapped around the core. The other four methods use synthetic materials. Monofilament can be used for machine applique and sewing beads on with a machine. Filament thread can be used for any kind of sewing. Textured thread is mechanically textured to become wool-like. It is usually used for insulating and moisture-transporting. Bonded thread is a resin-coated thread used for upholstery and heavy duty sewing.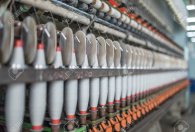 Threads are also grouped by the type of thread used to make the final product. There are natural fibers and synthetic fibers. Sometimes the fibers are used by themselves, sometimes they are combined.


Cotton thread is made from cotton fibers from the boll of the cotton plant. It is a natural material, as are wool and linen. The longer the fibers, the stronger the thread, and less lint. The cotton is twisted into the thread. Multiple ply thread has two or more threads spun together. Most of the piecing thread is 2-ply, 50wt or higher. King Tut is 3-ply, 4 wt; so recommended for quilting. (The size of the original fibers and spun thread determines the size of your thread. Remember the larger the thread size, the finer the thread.) Cotton is grown all over the world. At this point in time, Egyptian cotton has the longest fibers. You will notice that people don't let tell you where the cotton is from except for Egyptian cotton. Sheets, towels, sewing thread, and clothing boast about their fabric made from Egyptian cotton. Superior thread has a graphic about Egyptian cotton – where is comes from and how much.
Syntethic threads are polyester, rayon, and nylon. Specialty threads like metallics and glitter threads are also synthetic. These are single strands made of the chosen man-made material. The strands can be used by themselves (monofilament), or spun together. They also put a spun thread around a single core thread. Metallics are several strands of thread (metallic, poly, nylon) twisted together. Glitter thread is bonded layers of mylar twisted together.



Click here for a Wonderfil Blog
Lastly, the processes used to finish the cotton threads. Before this step, all threads go through some of the same processes – spinning, twisting, lubricating, winding onto the spools. Cotton, however, usually get special treatment. Almost all cotton thread today is mercerized. Mercerization is the process of dipping the thread in a solution that causes the fibers to swell, thus absorbing more of the color dye. The labels don't always say mercerized because it is the norm for finishing cotton thread.
Threads may also be gassed. This gives the thread a smoother feel (less lint) and a brighter sheen. This is what the silk finish or polished cotton descriptions are referring to. The thread is passed through a flame at a high speed. This burns off any lint. I've done this with a candle on the edge of poly fabric that is fraying too much. It also works on the end of poly cording. Remember to keep the candle moving or the fabric moving through the flame quickly.
This last process is only done to cotton thread to be use for hand sewing. The thread is glazed or coated. Hand sewing thread gets a coat of wax, resin, or starch and is then polished. The allows the thread to go through the fabric easier. The thread is also stronger than other threads. Think about buttonhole thread you may have used in the past. That was a coated, smaller weight thread.
More information about all of this is on the Superior Thread Education Pages.

All the thread companies have blogs, education pages, designers of the month, free projects, and more. Check out their pages:

Aurifil - go to Auriworld and check out any of those links
Check out their blog - Auribuzz
Superior Threads - go to their Education Tab
Wonderfil - look at their blog, education, and boutique tabs
At QA we have Mettler, Aurifil, Wonderfil (Konfetti, Invisifil), King Tut, and Superior Treasure. Most of what we have is 100% cotton. There are some polyester threads and some monofilaments. We have several weights of all of these. I carry these because they are all low lint and easy to work with. They are high quality and strong.


In addition to the sewing threads, we have embroidery floss. These threads are made the same way. The Sullivan's floss is colorfast and 100% Egyptian cotton. We also carry several lines of hand dyed floss – Classic Colorworks, The Gentle Art, and Weeks. Right now these companies are a little behind in making the hand-dyed floss. I try to keep the colors you need for your cross stitch and embroidery projects on hand.
If you need a specific color of any kind of floss or thread, ask us about it. It may be on it's way already or back ordered. You can put in a special order for what you want. We will call you as soon as it's in.
So, let's do a sale on thread and floss this week – 20% off.
Weather should be good this week to get out and about. Come by and say hi. It's never too soon to start on holiday projects. :0)
Happy sewing,
Phyllis and the QA staff
Quilting Adventures Hours:
6943 Lakeside Avenue Tues thru Sat 10 - 4
Richmond VA 23228 Sun - Mon Closed
804-262-0005
Website: http://www.quiltingadventures.com
Shop Blog: http://www.quiltingadventures.com/qablog
Facebook: http://www.facebook.com/QuiltingAdventuresVA

Click to visit Quilting Adventures!