It's batting day. What do you want in the middle of your quilt? There are lots of choices. First think about who will be using the quilt and how they will use it. Think about the time of year you are giving/making the quilt. You also need to look at the colors of the material in the quilt.


Your batting should not have stems, leaves, or seeds in it. The thickness of the batting should be the same throughout. You should not see bare spots or thin spots in the batting as you unroll it. Some batting has a thin layer of non-woven material (usually poly) called a scrim layer. This helps keep the batting from stretching too much when your quilt is being machine quilted. This is why they hesitate to tell you it's OK to use regular batting in microwave bowls (I can get zap-wrap which doesn't have the poly scrim for microwave projects). We use Quilter's Dream Batting at the shop. Their batting is excellent quality cotton, no other things in their bats, and even in thickness. Many of the long armers prefer this brand too. Check with them before you bring in a roll you got at a box store on a triple coupon sale.


The batting comes in 100% Cotton, Cotton/Poly blends, Poly, Bamboo blends, Silk blends, Fusible, and Wool. The wool does not come in different thicknesses. There is also a Poly Puff. 100% cotton or a cotton/poly blend works for most quilt uses and quilting material. For something that will be "loved" and washed a lot, sometimes poly might be a good choice. My grands live in Maine, so they get wool. And they use it all year. Wall hangings that aren't going to be used for more that art can use anything that gives a little weight so it hangs well.
Batting comes in several thicknesses. From thinnest to thickest - request, select, deluxe, and supreme. We have several thicknesses of many of our batting. We can special order a thickness and/or size if we don't have the one you want on the shelf. The thicker/loftier the batting, the warmer because there are more pockets to hold air. The air heats up, and that's what keeps us warm. This also holds our body heat in. Sometimes we don't want any thickness added to the quilt top. You can just quilt the top and bottom together. If the quilt is a lot of pieces sewn together by machine or hand, you may want to use a sheet or muslin in-between. This keeps the back of the top protected and doesn't add a lot of weight or insulation. This is good for tablecloths, summer bed covers, and picnic cloths. I also found that a flannel sheet works well for a thin, warm, medium weight quilt. It's good all year round. It's warm in fall, winter, spring, and cool to sit on in the summer.
The batting comes in white, natural, green (recycled bottles), and black. If you have a lot of white in your quilt, you probably want to use a white batting. However, if it is a good quality, slightly thicker, fabric you can use a natural or green. Neither of these really show through white. Just like underwear, light colors under light and dark under dark. Although, any color really goes under dark. Sometimes the batting may poke through the quilt, so you may want to be aware of that when choosing a color.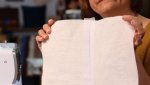 Did you know that you can piece together leftover pieces of batting? It's called "Frankenbatting." You can sew or tape the pieces together. If you are going to sew them, make sure the edges are straight and butt up to each other well. Then use the widest zig-zag stitch you have on your machine. Or you can iron the two pieces together with batting tape. We have 1 ½" and 2" tape.


Want a really puffy quilt that will show off your quilting pattern? Use two layers of batting. A wool plus a cotton will puff the quilt nicely, make it really warm and cuddly.
Nothing new in the shop this past week. BUT we did get a batting order and we have batting tape. So let's do 15% off anything batting this week. Bring in your tops for us to see and get them done!!!!
Happy sewing everyone,
Phyllis and the QA staff