Remember, the shop will be CLOSED this Wednesday, AUG. 25th

This week we will be talking about marking instruments. These come in many types, colors, and materials. This does not include fabric coloring markers or acid-free pigma pens.


Let's start with things that leave a temporary mark in your material. You can use your finger, finger pressers, seam rollers, or hera markers. Your fingers, a presser, or a roller will let you fold your material and press a crease/fold. These also will press open seams for you without using an iron. I like using any of these to press open fabric when doing foundation paper piecing. Violet Craft's roller is a great tool to own because of the shape of the roller and how the roller is balanced.





Hera markers put a crease in your material. You can run it along the edge of a ruler to mark seams, mark spots to join on different pieces of materials, and spots to stop sewing. Hera markers come with a curve with a sharp edge on one end (not sharp enough to cut your fabric) and other things on the other end – awls/stilettos, finger pressers, different size markers.
Many quilters like using the above types of markers because they don't put any "chemicals" on your sewing or quilting fabric. Lots of older quilts still show the marks people made for quilting, embroidery, and/or piecing. It could have contributed to the wear on some older quilts. Given the quality of today's materials, using marking pens sparingly should not hurt the sewing or quilting projects. Many of the markers are chalk based. The chalk will brush and/or wash out. Other materials will wash out, iron away, or disappear after a short time with exposure to air.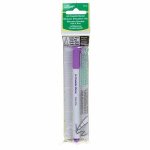 Air erasable pens are good if you are going to work on your project right away. They come in pens with different thicknesses of points. Remember these are air erasable and do disappear, so don't plan for this marker to be there is a couple of days when you get back to the project. It should still be there after dinner.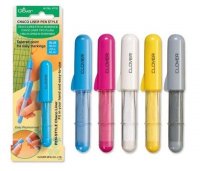 Other pens are chalk based. The chalk will remain until you erase, brush, or wash the project. You can get refillable and disposable pens. Chaco liners have little wheels that distribute the chalk. These are refillable. Plus, good, old tailor's chalk works too. You can get all of these in many different colors. Colors like yellow, pink, green, and blue will show up on any color fabric. The Sewline pencil has a variety set of color refills.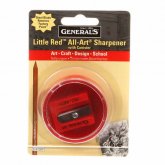 Chalk pencils are another type of marker. They come in white, black, red, blue, and several shades of gray. Because they are truly pencils, you need to sharpen them and the sharpener makes a difference. General's makes a sharpener just for chalk pencils. Using a regular pencil sharpener does not sharpen them, it just wears the pencil down and breaks the chalk.


Another choice is iron off markers. These come in white and black. They iron off easily, so don't use these if you need marks around where you will be pressing. You could use these with a seam roller or finger presser. I have a white Bohin marker I love. It marks well on dark fabric, BUT you need to give it a few seconds to appear.


Permanent markers can be used to draw embroidery designs on fabric. These markers come in a variety of colors to help you color code the design. There are also preprinted designs that you iron on your fabric. These are permanent as well.
Remember, all of these markers are made to use on fabric. Craft markers, regular pens, and pencils are mainly meant to be permanent on paper. They will leave a residue on your fabric. Even if you know you will be trimming the mark off, I don"t recommend you use these on your sewing and quilting projects.

NEW IN THE STORE
Some Halloween and Christmas fabric arrived this past week. Also some new Very Hungry Catepiller. Kona has a new line of their solids with a mild sheen. Some fat quarter bundles and some solids for Christmas arrived. The sheen doesn't show up in pictures at all. Come see all the beautiful fabrics in person.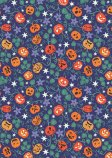 A few new patterns arrived too.
Swirly Girl Designs -Mountains in Rapture and Lucky 21


See you soon and happy sewing everyone,
Phyllis and the QA staff