Skip Navigation
Website Accessibility
Quick gifts, Raffle, and meet Sue

Quick gifts, Raffle, and meet Sue

Whatever holiday you celebrate this season, chances are you decorate for it. Most of us have bins of decorations built up over the years. Sometimes they just need an update, whether it's a table runner in new fabrics, a door hanger in different colors, or cute ornaments. As time ticks away, panic may set in to get all the gifts gathered.

Not enough time left for making a quilt? Think on a smaller scale…one block wall hanging, a monogram cross-stitch with a small hoop as a frame, or a pillowcase (new kits added last week!). Two other options being offered in the classroom this month: a microwave cozy bowl, and a small pop-up bin. We have several new fabrics to help you customize these gifts for the loved ones on your list.

Check out class availability here: Classes at Quilting Adventures

No-sew stockings and ornaments are another option for those pressed for time. We have precut 6" squares and 12x18" rectangles in a myriad of colors perfect for this option. Cute, easy and free patterns can be found at Fleece Fun by Angel Peterson. Find all the different ideas here: DIY Felt Ornaments Tips, Tricks and Templates (Free) ♥ Fleece Fun
Don't forget to send us pictures of all the wonderful things you make!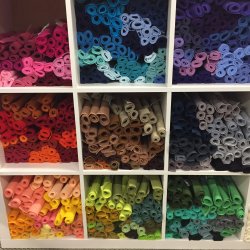 WIN THIS QUILT! WIN THIS QUILT! WIN THIS QUILT!

Only 8 days left until the drawing on Dec 14th for this one-of-a-kind wall hanging "Sea Goddess" by award winning quilt artist and QA instructor Linda Olson Brickey! ALL PROCEEDS go to the non-profit charity Quilts for Kids. Quilts for Kids | Making Quilts for Kids in Need

Help us reach or exceed our goal of raising $500 to further their efforts of gifting fun quilts to kids in hospital, shelters, and emergency situations.

QA Queen this month: Sue Tillman




Sue is the newest member of the QA team, joining us in September 2021. Sue has been sewing and quilting for 28 years. She enjoys hand quilting, applique and binding. She tends toward traditional quilting and favors jewel tones like her sampler quilt pictured below. Sue is most proud of her creation for a quilt challenge in her old guild called "Tea Time". The task was to create anything that represented the "Tea Time" theme to the maker and Sue won an Honorable Mention with her beautiful hand work. Although she has no favorite patterns, she likes making a variety of projects including some non-sewing ones such as jewelry, scrap booking, card making and floral arrangements. She lives with her husband, Ed, in Sandston and they have two kids but currently no pets.




For the Ren-Faire enthusiasts out there, you can also spot Sue in the summer at the Virginia Renaissance Faire being held at the Lake Anna Winery in Louisa County. She cooks 16th century food at the fair, often over an open fire. Sue also enjoys modern cooking, baking, bread making and reading.



Happy sewing everyone,
Phyllis and the QA staff
Quilting Adventures Hours:
6943 Lakeside Avenue Tues thru Sat 10 - 5
Richmond VA 23228 Sun - Mon Closed
804-262-0005
Website: http://www.quiltingadventures.com
Shop Blog: http://www.quiltingadventures.com/qablog
Facebook: http://www.facebook.com/QuiltingAdventuresVA

Click to visit Quilting Adventures!