Skip Navigation
Website Accessibility
Do or Learn Something New

Do or Learn Something New
One of the lectures I recently attended via Zoom had some good advice – 1) Get organized, 2) Take off your plate what you can let others do (I'm not good at this at all), 3) Do something new. Number 3 really hit home for me. I need to do this at home and at the shop. Not just finish what I have started or keep doing the same that's working, but do something new. This could be trying a new recipe, food, game, sewing technique, class, and so on. The possibilities are endless.
So, I am challenging all of you to do or learn something(s) new this year. Do something that is outside your comfort zone.


There are so many ways to take a class or listen to a lecture these days. We should always be learning something new. But you need to practice the new skill/technique for it to stick. This does not mean you have to do something you dislike or know you can't/won't do. I know English Paper Piecing and hand applique are too hard on my hands, so these are off the table for me. But learning how to do machine applique better is still a possibility.
Last year I took several classes to up my skill levels. I am now trying to finish some of the projects I started. Some were finished last year too. You need to work on the technique or project during the class, right after the lecture, and shortly after both. Before you forget how to do the technique, you need to get it into your muscle memory and/or have it assimilated into your working and long-term memories.
How do we do this? What is a good way to finish a project added to your list of already started projects due to a class or lecture?
1) Do a small project.
No one makes you do a twin or queen size quilt to learn a skill. You can do a wall hanging, pillow shams, mug rugs, baby quilt, or quilt squares. If you are taking several classes with one teacher, you can combine all the classes outputs into one project. Natalie M. took several classes with Sarah Fielke - army of people, improv letters and put it all together for this quilt.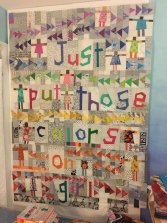 If you are taking several classes – make squares from each class and put them together into a sampler quilt. Do a medallion quilt with all the different techniques in it. I taught a paper piecing class(center of this quilt) and took a couple of improv classes for the outside rounds of this quilt. Quilt for a grand done. I was able to consult with her over facetime on colors, size, design.

I took a class with Denyse Schmitt several years ago. It was an improv stripes class. As we got started, I decided that I would do two pillow shams instead of starting another quilt project. I explained to the class that I needed to have a finished project when I left at the end of the day. I didn't have time right then to start another full-size quilt. By the end of the day, I had one sham finished and the other only needed the final outside seam sewn. I finished the second sham as soon as I returned home. I had learned and practiced along with everyone else. But I left with an almost completed project. Everyone else had lots of squares made and put together, but still had a long way to go to finish. Win-win for me.
Want to try a class that makes you let go and go home with a finished project? We can arrange that. :0)

2) Do a joint project with friends or in your guild.
Need a quilt for an outgoing guild officer? Need a present for a mutual friend? Then join forces with friends or guild members and do blocks for one quilt as the project for a class.
3) Donate the blocks.
Make red, white, and blue blocks and donate them to the Quilts of Valor group at Quilting Adventures or to a chapter in your area. Completed blocks are always welcome. Find a group that does community quilts, charity quilts, quilts for a children's hospital or nursing homes. They would gladly take a stack of blocks – any design, colors, even different sizes. Give them to your quilt guild for a yard sale or guild fund raiser. Someone will be happy to buy a set of already completed blocks.
Where can you find technique classes, lectures, project classes? Everywhere.
QA will be starting in-person classes the middle to end of February. A beginning quilting class will be starting the beginning of March. Others will be added soon too. Want a specific class for a group of friends (up to 8), give us a call and we will arrange it. Remember to check the calendar on our webpage to see what classes are being offered.
Follow your favorite quilter or designer on Instagram or Facebook. They post their on-line/Zoom classes all the time. Many of you have done Bonnie Hunter's Thanksgiving Mystery Quilt, check to see if she is doing something at other times of the year.


Check your favorite designer's webpage. Most of them have a Classes tab at the top of their home page. If you belong to a guild, see if the guild would help sponsor a Zoom class or a face-to-face class with a local teacher. Many of us at QA would gladly work with you.




Sign -up for classes at the quilt shows in the area. The Mid-Atlantic Quilt Show in Hampton and the Expo in Fredericksburg always have classes. See what other groups/organizations have classes. The local school divisions have adult education classes. The recreation departments of local governments also have lots of classes. Local museums have lectures and classes. New exhibits at all of these are a great way to see and learn something new. Don't forget about the Visual Arts Center for classes. Even local community colleges and universities may have something for you.


And, ask friends what classes or lectures they have taken. They may be willing the share and show you how to do the technique.

As I said, the possibilities are endless. :0))
New minky arrived – in a rainbow of colors! We also received some new blenders, also in a rainbow of colors. Come by and see all of these.
Happy sewing and keep warm everyone,
Phyllis and the QA staff
Quilting Adventures Hours:
6943 Lakeside Avenue Tues thru Sat 10 - 5
Richmond VA 23228 Sun - Mon Closed
804-262-0005
Website: http://www.quiltingadventures.com
Shop Blog: http://www.quiltingadventures.com/qablog
Facebook: http://www.facebook.com/QuiltingAdventuresVA

Click to visit Quilting Adventures!