Skip Navigation
Website Accessibility
QA Bulliten

QA Bulliten
This week will be more like a bulletin rather than a newsletter. First a few comments on hand quilting and then some other random things to share this week.
From a customer:
"Hand quilting a large quilt requires a quilter to have a devoted space to sprawl out the fabric & to keep it clean through out.....we have been lucky to have lived in many homes....but even our largest one, 5000 sq ft could never have accommodated a free-standing frame or pristine, clean floors & tabletop."
Many people use a large hoop they can hold on their lap and can keep the rest off the floor. People without pets or young children have a little easier time keeping a cleanish space for hand quilting (maybe). My quilt frame from my grandmother has two hoops that clamp onto the frame stand. If you want I can order large round wooden hoops (18" or so), oval hoops (16" x 27") with or without stands (lap or floor). For example:
A Traditional Full Size Quilt Frame 5560-G Fashioned After Frames From the Past. Perfect for the Single Quilter or a Group. The frame Adjusts From Baby Quilt Size 24″ x 45″ up to Full Quilt Size 24″ x 90″. Your Work Area Adjusts for Height and Angle so You Can Always Quilt in Comfort. The Quilt Rods Detach From the Frame so You Can Fold Up Your Quilt for Easy Storage. An Extension Kit is available which allows you to make King Size Quilts.
OR
An 18″ Adjustable, Rotating Quilting Hoop with Stand.
This hoop tilts and rotates a full 360 degrees on its stable, height adjustable base. The large three pronged knobs make adjustments easy while allowing you complete access to the sides and bottom of your quilt. The Quilters Wonder! stands up to 37.5″ high so you can comfortably quilt in a chair. Lightweight, stable, and portable- it also folds down to 16″ for storage.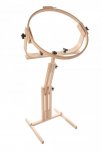 Another hand quilting resource is Broadclothstudio on Instagram. Go to her reels for videos about hand quilting.

#Quilters Stand for Ukraine
Don't forget to drop off your Ukraine blocks by March 22. The blocks we have received are beautiful and will come together nicely! If you would like to do something different, try Southwind Designs Sunflower pattern with easy to do dimensional curves. Annette's instructions are easy to follow. You can also go to her webpage for video tutorials.
Here's the link to the free pattern. Scroll down a bit for the PDF download.
Scissor Sharpening – March 22

Unsprung Uphostery is having a scissor sharpener come to his shop the morning of March 22nd. We are joining with them to offer you scissor sharpening. It is Old Dominion Knife and Scissors Sharpening. You can drop off your scissors with us starting this week. Make sure there is a phone number with your scissors so he can reach you at that day. Sometimes the scissors aren't worth sharpening or there is a question he needs to ask. You can come by starting March 23rd to pick up your scissors. Scissors sharpening runs from $14 for large shears to $6 for embroidery size. Pinking shears depends on the angle of the edge and he will determine if he can sharpen them.
St. Patrick" Day Week Sale – From March 15-19
Wear green and get 10% off your whole sale
Buy green and get another 5% off that cut of green fabric. (This does not include the pre-cut buy 12, get one free.)
New in the Store
Books

Fabric


Have a wonderful week everyone and enjoy the warmer weather.
Happy sewing everyone,
Phyllis and the QA staff
Quilting Adventures Hours:
6943 Lakeside Avenue Tues thru Sat 10 - 5
Richmond VA 23228 Sun - Mon Closed
804-262-0005
Website: http://www.quiltingadventures.com
Shop Blog: http://www.quiltingadventures.com/qablog
Facebook: http://www.facebook.com/QuiltingAdventuresVA

Click to visit Quilting Adventures!