Modern Traditionalism or Traditional Modernism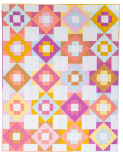 If you have taken a good look at the quilts from the past two newsletters, you have noticed that many of the genres' quilts overlap. Modern Traditionalism or Traditional Modernism, the middle ground, cross-over between the two is evident. Modern Traditionalism is a mash-up of the two, a congenial collaboration. You don't ignore the past, and you can embrace the present. You use the good, working old parts and maybe improve them. You change the problem areas, maybe find solutions for them.


People have said to me you can only hand quilt quilts for them to be authentic. You have to hand sew down your bindings. Well, you don't have to do that, you can if that's what you enjoy about quilting. There are NO QUILT POLICE! This is something we can enjoy today. Since most of us don't have to quilt to keep warm in our beds or have scraps from clothes we had to make; quilting can be a job, hobby, a way to make gifts with love, and whatever you feel it should be. I have recently joined a quilting group in Ashland – The Queen Bees (more info below). When we did introductions, it was wonderful to see everyone had a different part of the process they liked best. We can do a whole quilt and each of us do the part we love the best! We also had the entire range of sewing abilities, from novice to expert; types of quilters – traditional, modern, art, hand, machine, etc. This is going to be a group with no police, no rules, no right or wrong way for any type of quilting. This is how we all should be able to quilt. Think about other areas of technology or medicine. You don't drive a horse and buggy, or a Model T. Cars have changed a lot since they were first invented. I certainly don't ride in my parent's car and no one says we have too. Antique cars are refurbished and made street rods because people enjoy working on the vintage vehicles. Medicine has also improved. Cancer treatments change all the time, for the better. Our life spans have increased, and our quality of life is better for the most part. Most of us wouldn't think of not getting treatment for something curable. Sewing technology has certainly changed in our lifetimes. No one has to use a treadle machine anymore. No one has to hand quilt anymore, but we CAN. I want to finish my quilts before I die, and today's technology lets me do this and create beautiful items. Why can't I do it all by machine? Or why can't you do it all by hand? Or a combination of techniques? (enough of my soapbox, onto the Traditional Modernism)


So, many of the elements of modern quilts are based on the elements of traditional quilts. Half-square triangles, flying geese, square in a square, Ohio Stars, and on and on are found in modern quilts. Sometimes a crossover quilt will have bright colors that are not traditional at all, but have a traditional block repeated throughout. One or two spaces may be just a plain square or just one block is a different set of colors. Colors may rainbow across the quilt or range from dark to light of the same hue. Check out the Modern Quilt Guild's library.


Modern Traditional/Traditional Modern quilts may change the scale of a block. Instead of having even sized, smaller flying geese going around the quilt, maybe there are only four or so geese overlapping on the quilt. The quilt could be one giant star with lots of quilting on solid colors. A block can be enlarged and off-set for a new design.


Quilting also can be traditional or modern. Long-arm machines can be hand guided and/or machine/computer guided. The quilting patterns can mimic the shapes in the quilt, as they are in hand sewn quilting patterns. Or they can be an all over pattern that is the same as an old pattern (think Baptist fan). Many people now quilt on their smaller domestic machines too. Walking feet or free motion quilting works well with a machine with an extended harp area (area between the needle and motorworks to the right). Many people still hand quilt modern quilts. Remember, no rules and no police. Just enjoy or feel calmness from the activity.


Upcycling, recycling has become popular again. Many people make memory quilts from t-shirts, dress shirts, and/or child's clothing. Old flannel shirts, old dress shirts, old jeans, discarded textiles are all used for quilts. Check out:
Chris English @Afullenglish on Instagram
Want to try something new, step out of your comfort zone? Take an improv class with us. We will be doing an Improv Stripes class in May. Join the fun.
The Queen Bees is a sewing group that is meeting in the Ashland Library once a month. Anyone is welcome to join. We will be meeting the third Wednesday of the month from 5-8:30pm. Feel free to join and bring something to do - sew, hand work, quilting. Drinks are allowed in closed containers and food is allowed too. See you there. :0)

Lots of fabric arrived this week. Books too! New saturated blenders from Marcus, Timeless, and some batiks from Northcott. We also got a nice group of patriotic fabric from Wilmington. Come see them in real life.
Have a wonderful, warm week everyone.