Disclaimner – I know I am preaching to the choir. However, you could share this with those who ask you one of these questions. Plus I presume you have seen the t-shirts – Yes I crochet. No I will not hem your pants. Yes I knit, no I will not make you a quilt. Wear one of them to your next family gathering. Also, you could also add to your collection– No, I can't just throw together a quilt/Afghan for the cost of materials. No, I can't make you a quilt for your son's graduation next week.


We get these questions all the time. What's the difference between an Afghan and a quilt? What's the difference between a quilt and a bedspread? What's the difference between cross stitch, embroidery, and needlepoint? What's the difference between knitting and crocheting (people usually don't know there is a difference between these two if they don't do either)?
Let's tackle a couple of these this week.
What's the difference between an Afghan and a quilt? What's the difference between a quilt and a bedspread?


First – bedspread, Afghan, quilt. These kind of fit the old logic problems we have had in grade school – All Ks are As. Some As are Ks. Some Xs are Ks. Fanny is an K, therefore she is also a ____. Or grouping animals – farm animals, jungle animals, wild animals, ocean animals, pets, etc.
Bedspreads are the main grouping. Many are a quilted, single piece of material. The size of a bedspread can vary depending on the size of the bed it is meant to cover – twin, full/double, queen, king. Now we get into subgroups of a bedspread – duvet cover, Afghan, quilt.
A duvet cover is just that – a cover that goes over a bedspread, comforter/duvet, or quilt. It can be a finishing for a comforter/duvet (insulated bedspread) finished with muslin or plain fabric. It can be a seasonal or holiday cover for a bedspread. It can be a new covering for something worn.
Subgroup two – Afghan. An Afghan is a knitted or crocheted bedspread. It will vary in size based on its intended use. They can range from being made to go onto the back of a sofa to covering a king size bed. The type of yarn or stitches used is decided by the maker of the item. The design is also the choice of the maker. They can be medallion style, squares put together, or rows of stitches.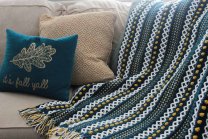 Three - Quilts are sewn, pieced designs of fabric. The top is then layered – top, batting, and backing. Finally it is quilted by hand or machine. They also vary in size based on the use and size of bed they are made to cover. They range from crib size to king size. Their designs and colors are decided by the maker. Unless you make the mistake of asking the receiver what they would like. You are then obligated to meet the myriad of color and design choices they give you (Hahahaha). Whole cloth quilts are one piece tops with intricate quilting designs on them. These are usually hand quilted. There are "millions" of named blocks that can be used for a quilt. The design can be done in a "million" different ways – medallion, rows, samplers, and on and on. Put the block choices together with the "millions" of colors available today, and the possibilities are endless. Plus scraps can be put together for Crazy Quilts.




It's time to get working on all those baby and off-to-college presents. Maybe start on holiday presents too. Stop by and see us to help you get started or for inspiration!
Happy sewing everyone,
Phyllis and the QA staff