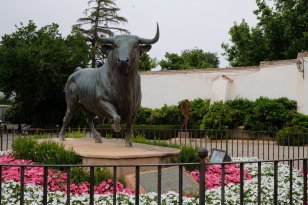 I'm back from my travels. We had a wonderful time in Portugal and Southwest Spain. We tasted port, wine, beer, and lots of food for the time away. We also walked several miles each day, learning the history of the areas where we were staying, world history, and how to make and taste port and wine. I also found a fabric store in Lisbon, Portugal. We saw some others in our travels, but they were closed, or we were on the road.
The mosques, cathedrals, and castles we visited were OLD. Many of the structures we toured dated back to before the time of Christ. The Moors were in southern Europe for centuries before the Portugese, Spaniards, English, and Christians ran them out. Some of the buildings had been converted in the 12th century, and some during the Crusades. Many had been modified depending on the winning group. Muslim and Moorish structures had many arches, arched doors, intricate designs on the walls, floors, and ceilings. There was a lot of science to their building. They used the sun to warm their rooms through window placements, courtyards, and small rooms. They created air currents and used the wind to keep cool in the summer. Palaces had public spaces, private spaces, and mosques. The palaces and mosques were inside city walls, for protection. The space inside and just outside the city walls were the non-Royal communities. Their homes, workshops, gardens, and small places of worship were in these spaces. Christians often modified these spaces drastically when they conquered the Moors/Muslins. Walls were removed, chapels were added, decorations included pictures of living things – animals and people. I noticed that many of the motifs on the floors, walls, and ceilings looked like English Paper Piecing patterns, quilts, and textiles of today.
I can't show you the fabric I purchased because it is in our lost luggage. However, I have many pictures I can share. I will try to keep them to a minimum and label them for you. I know they are small on the screen. Just enlarge the page in your e-mail browser to see the details!!!!
Since many of the designs I'm sharing this week look like EPP, all EPP supplies will be on sale this week. 20% off all EPP supplies, patterns, and books. Something easy to take with you on your summer travels.

Portugal (Portugal is known for its tile work, so I've included a little of that too)
Old part of Lisbon



Sintra



Spain
Seville - Alcazar



Cordoba - La Mezquita



Malaga



Granada/Al Alhambra

Happy summer and happy sewing everyone,
Phyllis and the QA staff