Skip Navigation
Website Accessibility
September Quilting Queen

September Quilting Queen
Hello, everyone! Thanks for tuning in to our newsletter. National Sewing Month continues – patterns and books are 10% off all month long. The sale for this coming weekend (Friday and Saturday) will be Batiks - 20% off all yardage.

In response to last week's writing on personal sewing toolboxes, a reader and customer of ours told us that in a pinch, she uses a white/neutral flat sheet over the bed as a "design wall," which is a fantastic idea. I've also used a vinyl tablecloth with flannel backing up on the wall because the fabric will stick to the flannel. You can find those at the supermarket for a few dollars. Another customer said she bought a tackle box from Walmart for all her small sewing supplies and tools. Thanks for the great tips.


This week, we're featuring another Quilting Queen: Rachel Snyder.


Rachel has been working for QA since the start of the pandemic, back in March 2020. She worked with fabric some before then, but she didn't get serious about sewing until she began working with us.
Stuffed animals are her favorite thing to sew. Rachel also likes to make little accessories for them like they're build-a-bears (except they're mostly dinosaurs).

These are the first stuffed animals Rachel made. She designed them based on Minecraft characters, and the pig was made using fabric from an old pillow. She creates all her plush patterns herself.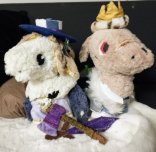 Rachel is very happy with how her fruit cows have come out and wants to make one for everyone on a hiking trip she has planned.


This is the largest plush she has made, a squishmallow about the size of a pillow. This was a gift for her cousin.

Outside of sewing, Rachel really enjoys hiking and camping. She is the middle child out of six girls, including her identical twin Mara, who also works at QA!

Rachel has three guinea pigs – Benedict, Galileo, and Andromeda – a rabbit, a dog, a cat, and her twin's parrots.

She lives here in Henrico and is going to school at VCU for Environmental Science.

Be sure to say hi when you see her in the store.

Guidelines for Fabric Scraps Donations- the scraps we collect are for the stuffing in pet beds. Please only donate smaller scraps from quilts and other sewing projects, and batting pieces. DO NOT bring us clothing, cut up clothing, blankets, comforters, or fabric yardage.
Check with the Richmond Quilter's Guild or the Richmond Chapter of the American Sewing Guild if you have items from an estate that are sewing related. They may be able to help you sell, advertise an estate sale, or give suggestions on where to donate items. Scrap RVA on the Northside also accepts donations of all kinds.

We hope to see you soon!

Phyllis and the QA staff
Quilting Adventures Hours:
6943 Lakeside Avenue Tues thru Sat 10 - 5
Richmond VA 23228 Sun - Mon Closed
804-262-0005
Website: http://www.quiltingadventures.com
Shop Blog: http://www.quiltingadventures.com/qablog
Facebook: http://www.facebook.com/QuiltingAdventuresVA

Click to visit Quilting Adventures!