Happy fall, everyone!
We're excited to participate in carrying Kaffe Fassett's Third Weekend in October Quilt Kit. You can see us listed on FreeSpirit Fabric's website!
The kit will make a king-sized quilt using paper piecing. The best part about the kit is that it includes all the pre-printed foundation paper – no photocopying required! It also includes a color matching guide, which will provide great practice for those of us who have struggled with or lack confidence in matching fabrics.
FreeSpirit is going to offer a Third Weekend in October Facebook Group for participants to share their progress and offer tips or ask for help.
Here at Quilting Adventures, we're going to host a group sewing session for our participants that third weekend in October. We have a very limited stock of the kits, so come get them fast!
This is the last week of our 10% off sale on patterns and books, so remember to take advantage of that while you can.
What projects are you working on as the weather finally cools down? It's got me dreaming of flannels. We love to see everyone's projects. Show us next time you're in the store, or send some pictures to our email, info@quiltingadventures.com, so we can show them off.
Lot's of new fabrics arrived this past week in the shop. Pictures never show them in their true glory, so stop in. Below are a few samples of what arrived. We also have a bunch of new blenders arriving this week. They are school/college colors! Come by and see them all.

New Kaffe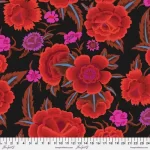 Animals Galore



And Brights