Hello, quilters!
It's March and spring is fast approaching. Take a look at some of the classes we'll be offering this season, and remember that all your supplies for the class are 10% off after you register!
Upcoming Classes
Beginning Foundation Paper Piecing
March 21, 10:30 a.m. to 1:30 p.m.
Kathy is teaching the basics of paper piecing with Carol Doak's "Show Me How to Paper Piece." She will walk you through creating a wall quilt perfect for those wanting to learn this skill.
March 25, 10:30 a.m. to 4 p.m.
Sue will be teaching Eleanor Burns technique of applique for use by hand or machine. You'll learn the basic stitch, how to sew curves, points, and dips.
Kitchen Series 1 (potato bag and potholder)
April 8, 10:30 a.m. to 3:30 p.m.
Start improving your kitchen with this series of handmade products, taught by Sue.
April 27, 10:30 a.m. to 1:30 p.m.
Use just a fat quarter of fabric to make this handy pop up container with Sue.
May 2 and May 9, 10:30 a.m. to 1:30 p.m.
Make a small bag with Kathy - great as a cosmetic or sewing bag, equipped with lots of pockets to keep you organized.
Why Do We Use a 1/4" Seam?
Ever wonder why quilters use a 1/4" seam, and why it varies by industry? So did we!
There doesn't seem to be a concrete history on when or why it started, though there are theories as to why a set seam allowance came to be.
In clothing, the standard seam allowance is 5/8". It is thought that an industry standard was set to reduce issues and complaints from customers following the patterns. It also offers more leeway than a 1/4" seam to make adjustments or to let out for size increases.
We use a standard seam allowance in quilting for much the same reason - it makes it easier to follow different patterns. Piecing is very reliant on geometry and mathematical calculations, so following the recommended seam allowance is mandatory to achieve the desired result.
Take a look at how much the length of these pieced strips are when the seam allowance was altered by the width of a thread.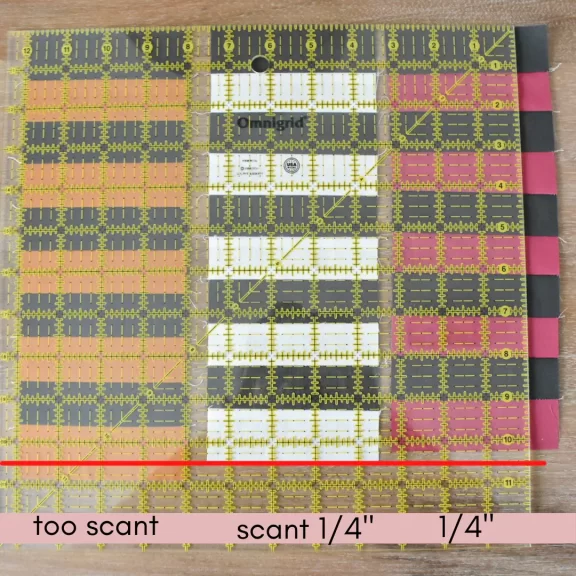 A 1/4" also seems to be the best to allow for the seam to be ironed back.

All the accounts we've found seem more anecdotal than historical. Were you given a reason why to sew with a certain seam allowance, maybe by the person who taught you?