Skip Navigation
Website Accessibility
Ticking Fabric

Ticking Fabric
Hello, quilters!
We have lots of classes this April. We also have a new block-a-month project for you.
Baltimore Album Quilt
Join Sue's class on appliqué for hand and machine to make this Distlefink block. The class will continue to meet once a month, and a new, unique block will be created each session. In a year, you will have a full quilt top! The next class is meeting May 4th at 10:30 a.m.
Ticking Fabric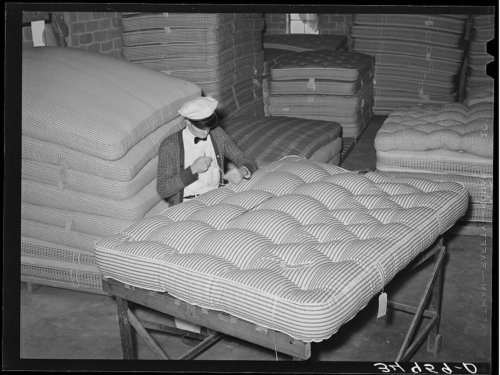 Ticking fabric has a fascinating history. It got its name back in medieval times, when the fabric was used for feather mattresses. The ticking refers to the rustling noise the mattress would make.
Ticking fabric became widely available during the Industrial Revolution and was used for many purposes due to its durability and water resistance. It was used by the medical industry for its resistance to bacteria and mold, as well as for being easy to clean and disinfect.
It's making a comeback because it's environmentally friendly, as it's a 100% cotton fabric.
The neutral colors and stripe patterns make it easy to integrate into your home decor.
Check out this free tutorial on creating a table runner out of woven ticking fabric.
You will use interfacing to hold the weaving together, and then attach backing fabric.
Have fun!
Phyllis and the QA staff
Quilting Adventures Hours:
6943 Lakeside Avenue Tues thru Sat 10 - 5
Richmond VA 23228 Sun - Mon Closed
804-262-0005
Website: http://www.quiltingadventures.com
Shop Blog: http://www.quiltingadventures.com/qablog
Facebook: http://www.facebook.com/QuiltingAdventuresVA
Click to visit Quilting Adventures!